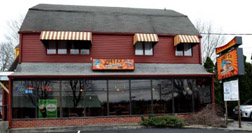 A cozy, comfortable meeting place to enjoy one of our famous margaritas or a specialty cocktail made with only fresh squeezed juices, and organic agave nectar, as well as any of our 12 craft beers on tap! Then there's the FOOD!!
Try our delicious, Signature Dry- Rubbed BBQ…Ribs, Pulled Pork, Brisket and Free-Range Chicken, or go for some fresh Tex Mex cuisine, including many healthy menu options such as fresh fish, brown rice, wholegrain tortillas, and lowfat dishes. With an emphasis on fresh high quality ingredients, all menu items are made from scratch – right down to our special BBQ sauces sweetened only with organic agave nectar…creating a totally unique sauce that has a subtle sweetness that enhances the flavor of our meats…not overpower them. Also, housemade are a variety of exotic hot sauces, like the fruity but fiery Roasted Habanero, a Red Thai and Scotch Bonnet blend known as Joey's Heat, and the Mean Green, a spicy Serrano and cilantro sauce that's incredible with fish and chicken.
Enjoy your meal in the rustic, casual atmosphere at the cozy bar, fun dining room (kids LOVE our picnic tables!), or intimate Barn Room with vaulted ceiling and beautiful photography by local artist Kristina Foreman. Discover why Joey C's has become Milford's go-to spot for a truly unique and memorable dining experience with friendly, personable service.
Open 7 days…dine in or take out. Joey C's also offers an expanded menu for full service catering.